We are happy to say that we provide advertising solutions for mobile billboards Sydney.
Our media is 100% mobile, meaning that we allow our clients a completely unrestricted and flexible opportunity to reach all the places that other fixed signage simply can't.
We create a large, clear, and visually impacting billboard presence that is tried and proven to give great results, and a great ROI for our Mobile Billboards Sydney customers.
S P Jain – Mobile Billboards Sydney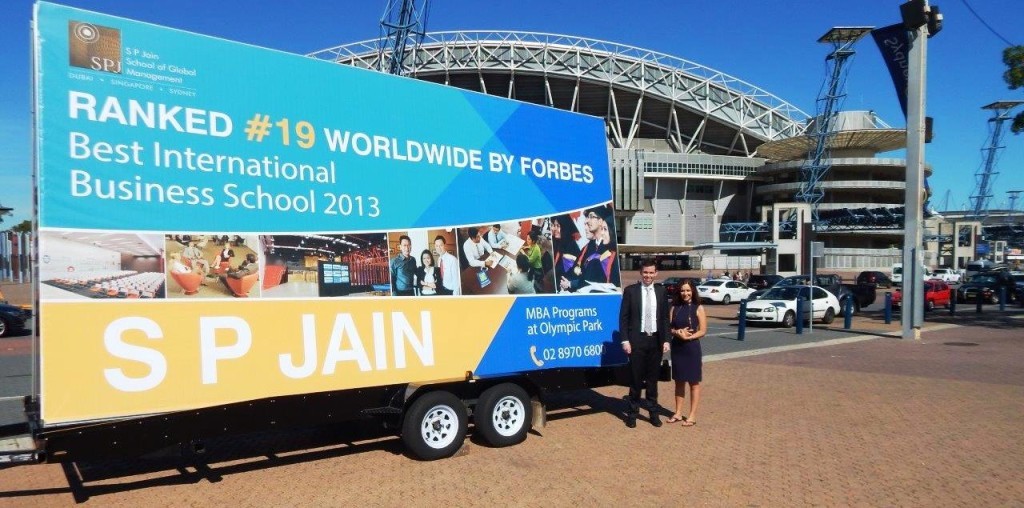 We hit the streets with one of our large mobile billboards to get the word out about their MBA Programs that they are currently holding at Olympic park in Sydney.
Working with them was great, and a fine example of exactly what the Mobile Billboard Company is about, delivering a clear, concise message, and getting great results for our clients.
Greenpeace – Mobile Billboards Sydney
A perfect example of the utilisation of Mobile Billboards Sydney: Greenpeace put a billboard about the University of Sydney right in front of the University of Sydney. The look on people's faces when they walked in and saw what the university was funding was a mix of shock and awe, and the ingenious of the billboard placement converted directly to awareness of the issue and floods of people to their website.
KIA – Mobile Billboards Sydney
KIA came out and launched their 7 day sale forecast through the 13th – 19th of March boasting great savings. Using a mobile advertising service, KIA was able to move around freely and attract all kinds of customers that might be looking for a new car.
KIA left us as very happy customers and became another example of a simple idea walking away with a great ROI.
Peoplecare – Mobile Billboards Sydney
By getting out there on the streets with an eye catching billboard, PeopleCare were literally turning heads. They got their message across and did it with flair, which at the end of the day is what we want.
ALDI Campbelltown – Mobile Billboards Sydney
Aldi came to us to help launch a mobile advertising campaign that saw the launch of Campbelltown malls new Aldi store.
We helped them hit the streets and went where no static billboard could, to areas around Campbelltown Mall and even Campbelltown Mall itself, targeting residents in that geolocation and making them aware of the stores opening.
We were delighted to see that the new Campbelltown malls popularity rose and Aldi was delighted to see the great ROI they got, another happy customer that I think we may be seeing more of.
Australia's most trusted Mobile Billboard Company

Take your idea to the next level.
Got an idea? We have your advertising solution. These are just some of the companies that have utilised our services in Sydney and we have yet to see an unhappy customer. If you are looking for great brand awareness, calls to action, and an overall great ROI look no further than the Mobile Billboard Company, give us a call today!