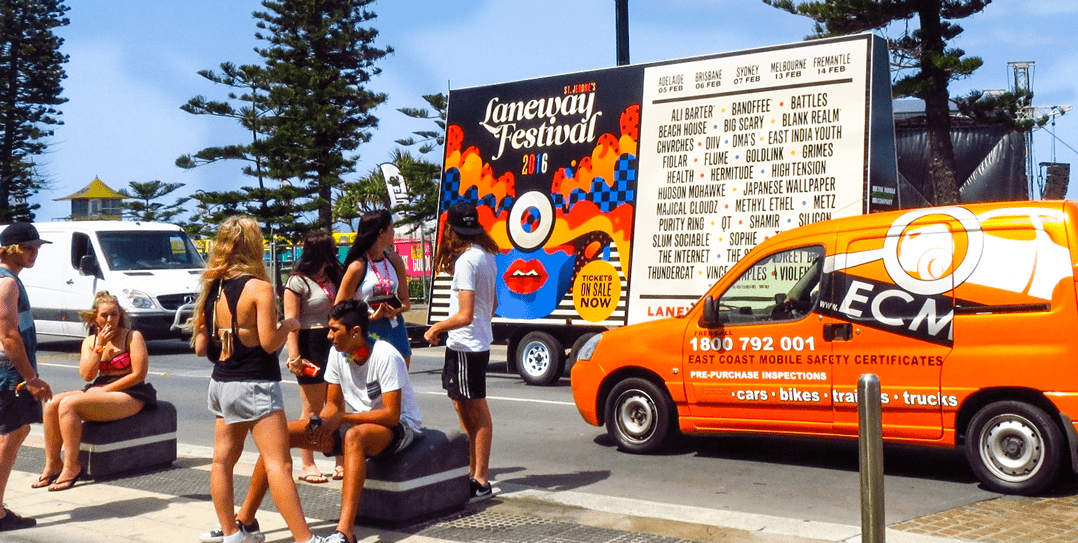 The Mobile Billboard company provides mobile billboards right across the Gold Coast.
We pride ourselves in our ability to launch successful campaigns, and our results speak for themselves. We love seeing clients get a great ROI on their business, because not only is it good for them, it's good for us.
Laneway Festival
Mobile Billboard circulating all through southern QLD including the Gold Coast and as just over the border in Byron Bay to present the "Laneway Festival" – Targeting younger demographics and heading in to all the areas that no other traditional signage could go, and included Southern Brisbane, the Gold Coast, and areas of the North new South Wales coast.
We made sure our message was visible, and, as you can see, had people literally turning heads.
Australia's most trusted Mobile Billboard Company

Take your idea to the next level.
Got an idea? We have your advertising solution. These are just some of the companies that have utilised our services throughout the Gold Coast and we have yet to see an unhappy customer. If you are looking for great brand awareness, calls to action, and an overall great ROI look no further than the Mobile Billboard Company, give us a call today!