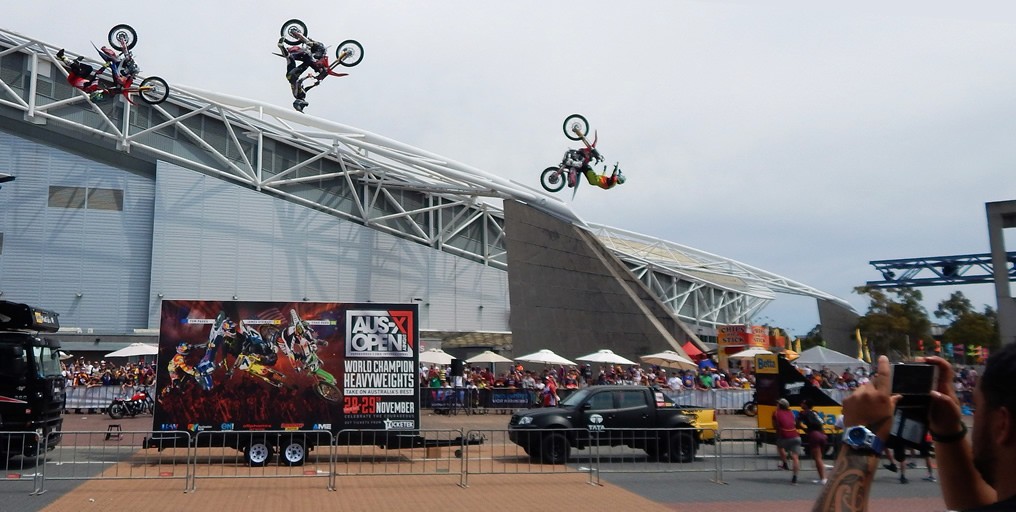 AUS-X Open Motorcross
In one of the biggest events that swings around each year – The NRL (National Rugby League) Grand Final – AUS-X Motocross and AME Management (Event Organisers) utilised a Mobile Billboard on site at Olympic Park to promote their upcoming motocross event. Positioned on site, locked and secured… ramps pushed up and the crowd holding their breath, 3 professional stunt Motocross riders decided to front flip, back flip and toss and turn over the Mobile Billboard in an event that had to be seen to be believed.
Honda at the Grand Prix
Each year, major Phillip Island GP sponsor, Honda Motorcycles, utilise a Mobile Billboard positioned at Gate 1 of the event to compliment all their peripheral signage. Completely unmissable, all corporate, business and VIP entries drive right past the massive Mobile Billboard. It gives them a friendly reminder that Honda are serious about motorsport.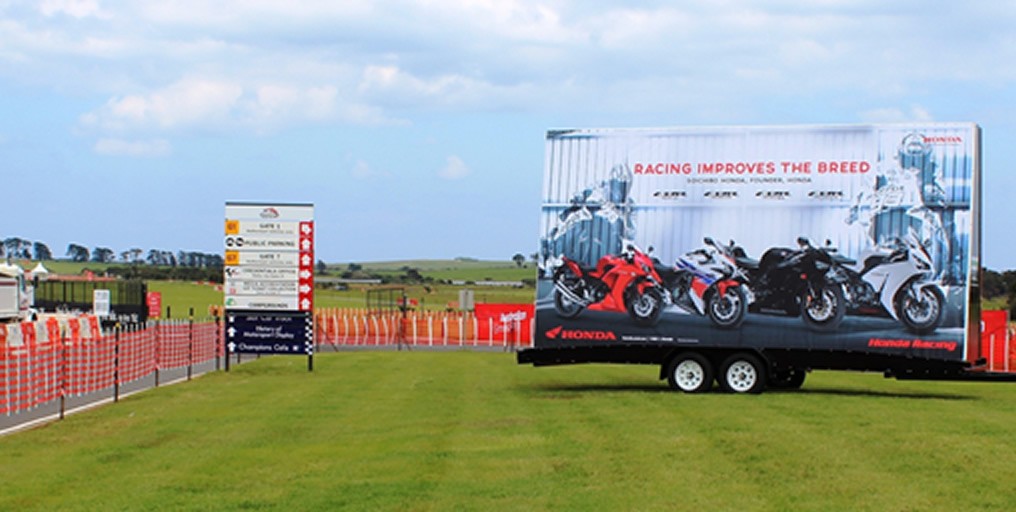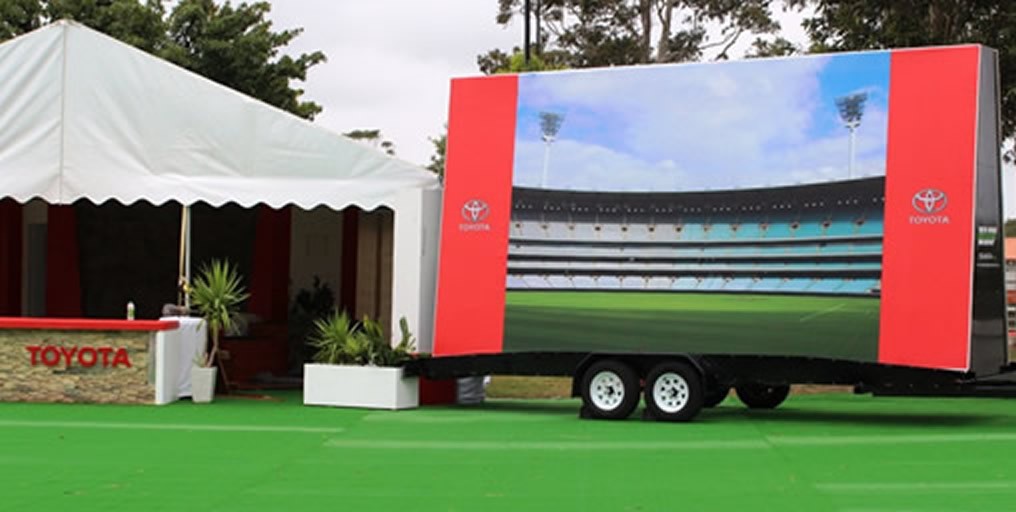 Toyota at the Motorshow
Need a large format, relocatable Mobile Billboard trailer for a major event? Toyota did. At the 2015 Melbourne Motor show, Toyota utilised one of our Mobile Billboard trailers locked and secured on site at the Royal Melbourne Show Grounds to compliment an Aussie Rules Handball competition. Sounds strange – but in short, the Mobile Billboard provided an interactive way for Toyota to connect to the younger generation – and in this case – handballing a target on site against our trailer.

QBE Insurance
QBE Insurance, supporters of the Ulysses Club of Australia, roll up their sleeves and assist each year with the sponsorship of the clubs annual meetings. These events, held in various regional locations across Australia, see thousands of Ulysses Club members undertake thousands of kilometre journeys to enjoy themselves with fellow supporters. By welcoming them at the front gate with a Mobile Billboard – the large format sign lets them know they've arrived in the right place.
What your mobile billboard campaign includes.
We work closely with you to ensure we target the right areas, and to ensure high exposure, high impact and cost-effective solution.
At every stage of the process, our experienced team are here to guide you through photo selection, caption creation, branding and graphics, to ensure you message achieves maximum impact. Audio, illumination, promotional sampling and other sensory elements can be added to further enhance your advertising message.
Once your mobile billboard campaign has begun, we can report daily, including:
photographs
traffic reports
vehicle data