A new Social Business Network is born!
Over the past few months I have become a lot more active on social media. Although I struggle in the most part to juggle the various platforms i believe that the benefits out weigh the difficulties.
So far I've found that Google Plus has been the platform of choice for me, with twitter a close second followed by Facebook.
Although I have dabbled a little with Linkedin I have found it to be cluttered and too noisy for my liking.
So to my delight i came across a new site which merges the business networking of Linkedin with the social aspects of Facebook and Twitter.Its called Sunzu and its' tagline is "The Business Social Network". On the face of it that's a pretty bold statement when you consider its competition. So I was intrigued to see when i joined if it could live up to its tagline.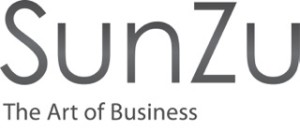 The interface is clean almost fluidic, every button and section is easily visible and usable. Its clear after a few minutes of browsing that a lot of time has gone into User interaction and the general structure of the site. Each user is given their own profile page, space to add a logo, Picture, a bio section and various links to their friends, contacts and communities which are called alliances. This is all neatly laid out on persistent menu on the left side which is similar to Google Plus.
User Experience and Usability
Your landing page presents you with all the latest news from the network as well as topical and featured items. This is presented in way similar to pinterest and the new windows grid design. Again the design is subtle which gives greater focus on the content. All in all its quite an enjoyable site to navigate. From the brief few days I've been on it I've found the content to be insightful and educational. I haven't really noticed any subtle attempts of people trying to make a sale. In fact its the opposite. People seem happy to leave their articles up for discussions as statements or stories of their own experiences. All in all i find this a much more cleaner and enjoyable experience then Linkedin.
As I get more involved and explore some more I'll write again on Sunzu- The Business Social Network Check it out!